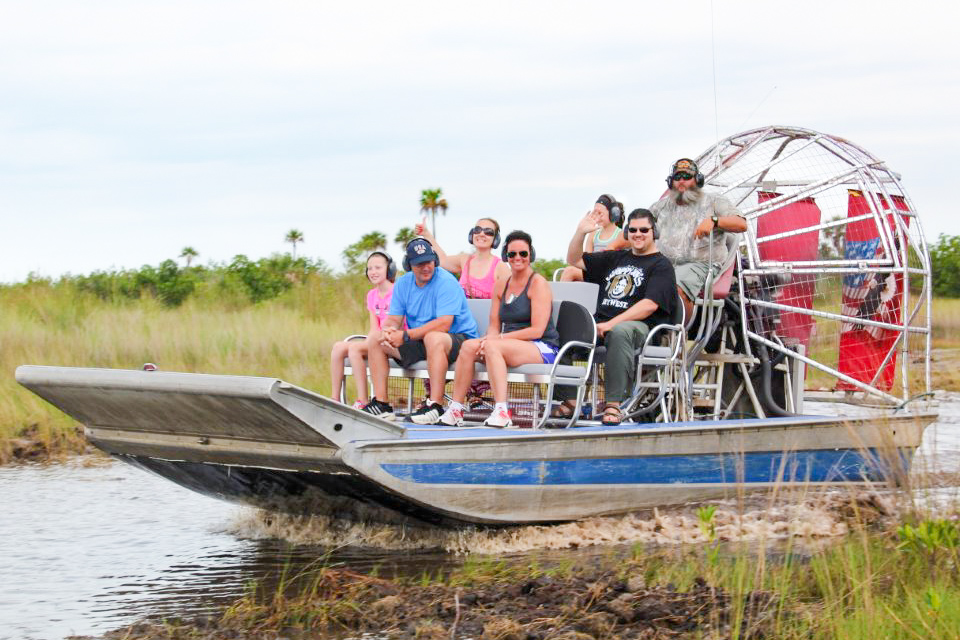 Wooten's Extended Small Airboat Tour: Details & Pricing
It takes 50 minutes to take a Wooten's Extended Small Airboat Tour. All ages are welcome. Our airboat dock is handicap accessible, but wheelchairs can't be loaded onto the airboat. If anyone in your party is using a wheelchair, please be sure they can move from the wheelchair onto the airboat. Wooten's is open 365 days a year between 9:00 a.m. and 4:00 p.m. Live alligator shows run hourly in our Animal Sanctuary between 10:00 am and 4:00 pm, with the last show starting at 4:00 pm.
Rates Starting At
Adults 11+: $45
Children 4-10: $27
Infants: 0-3: $7
Plus 13% taxes & fees.
Online Booking
Book online and get FREE admission to our Animal Sanctuary with live alligator show for all passengers, a $9 value per passenger.
What is Wooten's Extended Small Airboat Tour?
Feel the expansive beauty of the unique Everglades grasslands as you glide along the water in a small Wooten's airboat! Our Grassland & Mangrove Small Airboat Tour gives you a longer, more personalized experience in a smaller airboat that can get closer to mangroves than larger airboats can.
Ride in safety with experienced captains who know how to show you a good time
Escape into 259 acres of private grasslands, away from the traffic of other airboats
Learn about animals, plants, and area history from our knowledgeable captains
See wild alligators, birds, and other animals—if Mother Nature is willing!
See more nature on a longer 50 minute tour
Go to more secluded areas where larger boats can't go
Get a better opportunity to take photos
Visiting Wooten's with a larger group? Try our original Grassland Airboat Tour. Want to be sure nobody else shares the boat with you? Reserve a Private Airboat Tour.
Alligators, Manatees, and More Fun
Wooten's is your one-stop destination for a complete Everglades adventure! Before or after your private airboat ride, you can visit our Animal Sanctuary & Alligator Park where we put on live hourly alligator shows. Or soak up some nature and try to spot manatees on our Swamp Buggy Tour. Then cool off with refreshments and snacks in our gift shop and bring some of the Everglades back home with you!
Book a Wooten's Extended Small Airboat Tour
Book Online Now
Pets & Service Dogs Not Allowed
To ensure the safety of all guests and animals, pets and service dogs are not allowed in the Animal Sanctuary, near the boat launch, on airboats, or on swamp buggies. Service dogs are allowed only in the gift shop, restrooms, and picnic areas.